In the present world, startup companies often outshine long-established ones in developing innovative and inventive solutions that enhance the lives of millions. The agility and flexibility of management are essential factors that enable startups to move faster than large corporations that have existed for decades. RAILBUS, being a startup, has formed strategic partnerships with major suppliers and manufacturing companies to create a groundbreaking and feasible solution to the transportation and congestion issues that afflict many cities.

With the right vision, experience, and persistence, nothing is impossible.
Click on the image to view the RAILBUS brochure
The transportation crisis, congestion and pollution
The challenges of public transportation, traffic congestion, and air pollution affect numerous cities worldwide. These issues motivated the developers of RAILBUS to devise a system that provides a comprehensive solution to these challenges. Their primary objective was to design a practical system that could be implemented in any city, regardless of its infrastructure or financial resources.
In contrast, several companies solely focus on developing electric cars, which may not be an effective solution and could potentially exacerbate the problem by prioritizing individual transportation over public systems, leading to increased traffic congestion.
Many cities suffer from transportation crisis
In December 2019, a group of engineers and entrepreneurs from diverse backgrounds convened in Dubai to deliberate on creating an innovative, affordable, and solar-powered public transportation system.

Their objective was to develop a business model that could be adopted by any city, thereby revolutionizing the lives of millions of people worldwide, while also reducing pollution and safeguarding the environment.
The initial design of RAILBUS
During the first quarter of 2020, extensive research and development were undertaken with utmost dedication to design the vehicle that would serve as the core component of the transportation system. The design process involved careful consideration of several critical factors, including aerodynamics, contemporary appearance, effortless accessibility, and the utilization of Eco-friendly materials in the manufacturing of all components.
RAILBUS lightweight components
RAILBUS's design is a culmination of accumulated experience and expertise that leverages cutting-edge technology to create an unparalleled masterpiece in the realm of public transportation.
The design of RAILBUS surpasses all standards.
What makes RAILBUS unique?
RAILBUS stands out for its inexpensive infrastructure construction and operational costs, thanks to its lightweight vehicles made of materials like carbon fiber, which are commonly used in aircraft manufacturing. This reduces the cost of building elevated tracks by over 80% compared to traditional metro networks. For example, if it costs $50 million to construct one kilometer of a metro line on poles, constructing a raised line for RAILBUS would cost no more than $10 million per kilometer.
RAILBUS' cost-effectiveness makes it a viable transportation option for any city, as the project's investment recovery period is no more than 8 years, compared to the 30-year period required for metro projects. Implementing RAILBUS is also much faster than building metro lines, taking only a quarter of the time. This means that governments do not need to provide a budget or loan for the implementation of RAILBUS.
Additionally, RAILBUS is attractive to investors, particularly development funds and banks that support sustainable development projects in all countries.
Why did we choose Delaware for RAILBUS company formation?
Despite the majority of shareholders being from outside the US, RAILBUS was incorporated in the state of Delaware and has its headquarters in Dubai, with plans to expand to other countries.
Delaware is home to over 60% of the world's largest 500 companies, including Amazon, Alphabet (Google), and HP, among others. Incorporating a company in Delaware is highly advantageous as it allows for future listing in American stock markets, resulting in a greater market value.
Additionally, Delaware is an offshore jurisdiction with zero taxes. It takes place out of state.
The certificate of incorporation for RAILBUS
The RAILBUS vehicle design and development have been completed
The engineering designs for RAILBUS vehicles, including their components and interior, are complete, and manufacturing of the first prototypes will commence soon. These vehicles have been designed to be cost-effective and utilize cutting-edge technology to enhance safety and efficiency while minimizing energy and maintenance costs. The interior components are made of microfiber recycled polyester fibers and plastics, which reduces energy consumption and carbon emissions by 90% compared to traditional petroleum-based plastics.
The share quantity and price for this private offering
During the initial phase, the founders financed the development work. Now, in the first private placement, 10 million shares representing 10% of RAILBUS's total shares are being allocated at a price of one dollar per share. These funds will be used to manufacture the first functional prototype of vehicles and operate it on a short trial track (pilot project). Bonus shares will be granted based on the amount invested.
This private offering is limited to 1,000 individual shareholders from all countries. The offering will close once this limit is reached or all shares are sold, whichever occurs first. We anticipate that the current offering will be fully subscribed soon, as the company receives more than 30 applications per day.
Individuals can participate with a minimum of $1,000 and a maximum of $100,000.
Once the current shares are sold, no additional shares will be available until the middle of next year. At that time, 15% of the shares will be allocated exclusively to companies, potentially valued at over $5 per share, after significant progress has been made in manufacturing the first vehicle model.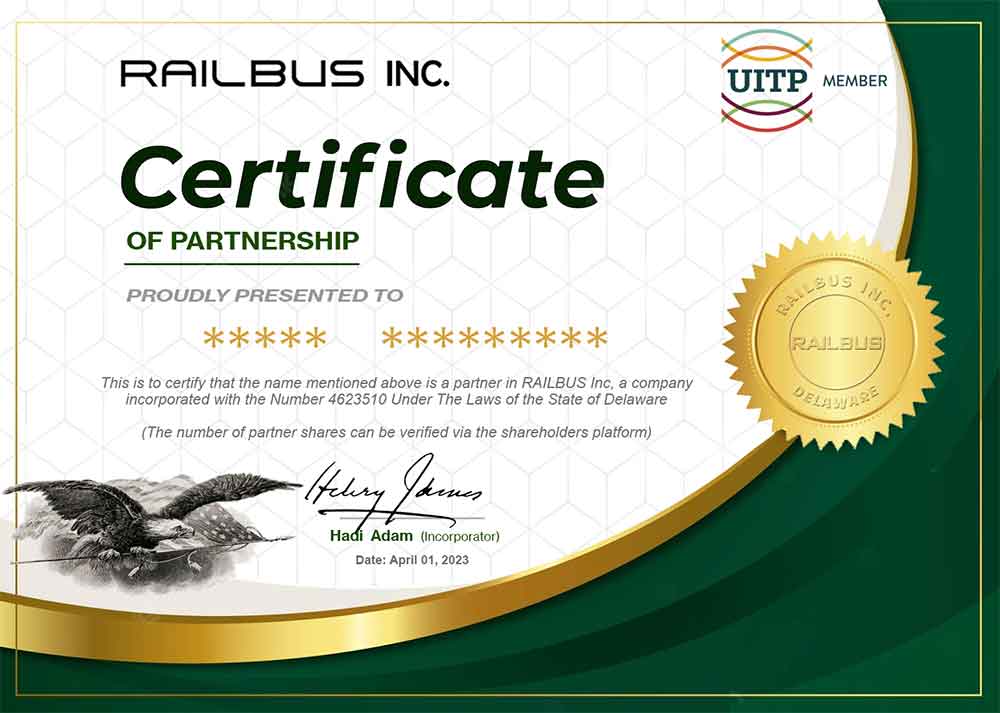 Each participant is granted the title of partner.
Why are shares offered to individuals?
Many people are asking a logical question: If RAILBUS has all the necessary ingredients for success and is qualified to become a giant company, why are shares being offered through crowdfunding instead of a single investment company that can cover the required amount?
RAILBUS has actually received interests from major investment institutions in the Gulf region expressing their interest in investing in the company. However, we have decided to postpone this until the next stage for several reasons:

1) Bringing in companies at this stage could result in them taking control of the company, which may affect the founders' vision, especially during the current stage, which requires flexibility to bring the company to the pilot project.

2) Typically, companies ask for a large stake in the company at the current valuation, which is something RAILBUS wants to avoid. Thus, there is no need to sacrifice shares and obtain unnecessary additional investment at this stage.

3) Currently, the company is in the development stage and, like any startup, is managed horizontally by the founders to reduce unnecessary expenses and ensure flexibility and speed in work. A board of directors will be formed, with all of the company's structures in place before the first prototype is completed and investment institutions enter the company.

4) RAILBUS wants to offer individuals the opportunity to participate in a business targeting the general public at an early stage. Such opportunities are rare and typically only found on crowdfunding platforms, which are usually limited to small projects. RAILBUS allows enthusiastic individuals to join as partners and contribute at an early stage.

5) The participation of a large number of individuals into this stage allows the company to form a community of supportive partners from different countries of the world.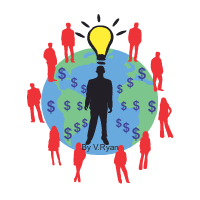 What will be the return on my investment?
Large institutions typically invest for the long term and may not begin to see profits for a period of 5 years or more, depending on their business model. However, this is neither practical nor feasible for an individual with limited investment capabilities, who expects to see returns much sooner.
RAILBUS is a distinguished company in all of its operations, therefore we have implemented mechanisms that enable early investors to get return after only one year of investment. At this stage, investors are considered partners and are entitled to the same privileges as the founders.
Investors in RAILBUS will receive two types of investment returns:
The first return:
Starting next year, the company will distribute bonus shares to the early shareholders, and the investor will have the option to receive them as shares or as cash, which will not be less than 10% of the original investment, as the company will sell the shares and transfer the amount to the investor. The company has reserved shares for this purpose.
The second return:
It is typical for the value of shares in startup companies to rise at every stage of development. In the case of RAILBUS, all indications show that demand for shares from institutional investors will exceed supply, and as such, early investors will be able to sell some of their shares to interested parties. RAILBUS will provide shareholders with a special platform for buying and selling shares.
According to the financial study, potential growth, and market demand, the value of shares held by early investors is expected to increase gradually, potentially reaching dozens of times its current value starting from next year. We believe that this prediction is conservative, given the size and potential impact of RAILBUS.
Please enter the potential investment amount for viewing the stock and forecast calculations.
RAILBUS Headquarters & Showroom in Dubai
The RAILBUS headquarters and showroom, situated in Silicon Oasis in Dubai, has been attracting visitors from diverse sectors. Dubai was selected as the headquarters due to the extensive support extended to promising startups and its easy accessibility from all countries.

We extend a warm welcome to all visitors interested in touring the company. Kindly contact us one day in advance to schedule a convenient time.
RAILBUS Headquarters & Showroom in Dubai
RAILBUS is one of the few emerging companies that has granted membership in the International Union of Public Transport (UITP) due to its development of a system that is a great addition and a quantum leap to public transportation.
The International Union of Public Transport (UITP) is based in Brussels
UITP membership allows RAILBUS to participate in international events and communicate with all members of the public transportation industry, who number more than 1,600 government agencies, manufacturers, operators and developers of smart transportation systems from 96 countries.
UITP Membership Certificate
RAILBUS is in discussions with various institutions for strategic partnership, such as the University of Huddersfield in the United Kingdom, which has created lightweight carbon fiber Bogie wheels. Bogie wheels serve as the primary component of vehicles, functioning as both the electric motor and wheels. The implementation of carbon fibers, rather than steel, in Bogie wheels would offer numerous advantages, including substantial reductions in weight, cost, and noise.
 Fiber carbon bogie by Huddersfield Univercity
RAILBUS has also established connections with Siemens Mobility, a German company that specializes in producing light rail vehicles, to participate in the manufacturing phase.

Additionally, Tesla has been contacted to supply the Rail Bus system with batteries, which are regarded as the most efficient in the world.

These collaborations position RAILBUS as a reliable company from the outset, as it is working with major corporations in various fields to create its system. Similar to how Airbus outsources the manufacture of aircraft engines to companies like Rolls Royce, or how Apple produces its devices through Taiwanese company Foxconn's factories in China, RAILBUS does not need to produce most of its components in-house.
Therefore, RAILBUS relies on smart partnerships to start as a giant, as it is the main developer of the system and vehicles, and it has a distinct business model that differs from what all major companies do, which makes it far from competition.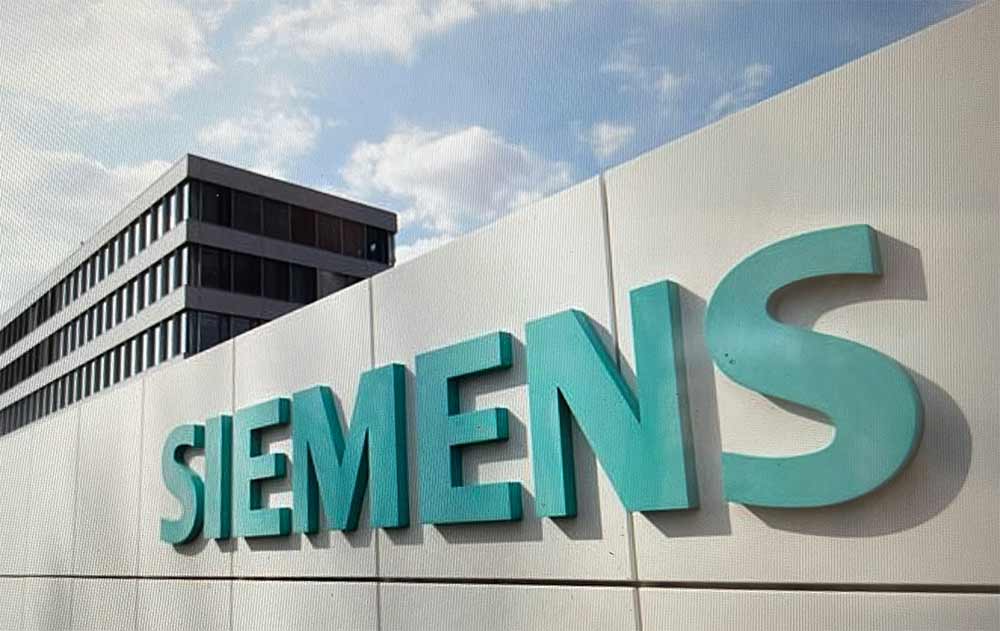 Siemens is a candidate for strategic partnership
RAILBUS projects simulator
RAILBUS has created a one-of-a-kind simulation system that can propose a RAILBUS for any city.
This system enables viewers to observe the project as if it were on the ground, with 3D representations of vehicles and stations in motion.
It also allows officials to visualize the entire network, thereby expediting decision-making on all aspects of the project.
RAILBUS Networks Simulation System
RAILBUS proposals for cities in India
Growing interest in implementing RAILBUS system
RAILBUS is among the few companies that have gained unprecedented acceptance even before completing the production of its prototypes.
Numerous countries have expressed a growing interest in acquiring the RAILBUS system, and it is anticipated that there will be a waiting list for this innovative transportation solution.
The RAILBUS system is deemed to be an economic and political asset for governments, as it follows a business model that facilitates self-financing of the project.
Saudi Arabia is among the countries that have expressed interest in adopting the RAILBUS system.
A sovereign entity in the country has extended an invitation to the company's founders to visit Riyadh and explore the possibility of establishing a RAILBUS headquarters and manufacturing plant in Saudi Arabia. If a Saudi sovereign entity invests in RAILBUS in the next phase, it would be a significant boost for the company and enhance its value. This would also facilitate faster market expansion than originally planned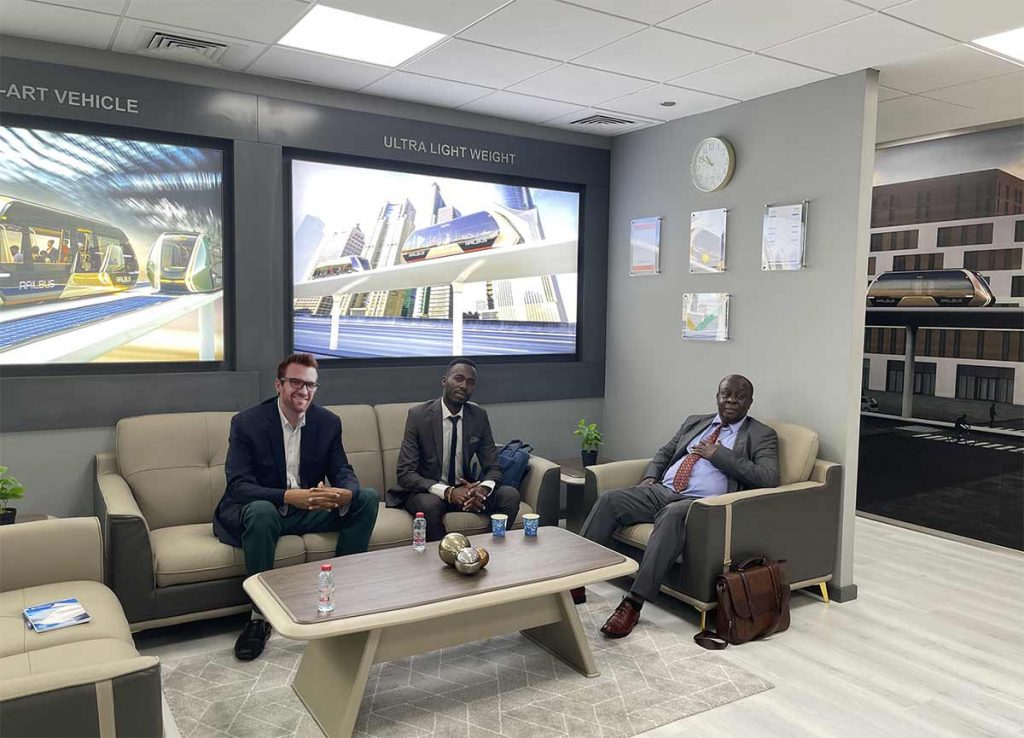 Meeting with officials fro Uganda
Environmentally friendly systems are the future
RAILBUS is the world's first public transport system that operates entirely on clean energy. It boasts hundreds of kilometers of elevated tracks that are covered with solar panels, which are exposed to sunlight throughout the day. Any surplus energy generated is stored in batteries within the vehicles for use during the evening periods. In emergency cases, such as extended periods of heavy cloud cover, the RAILBUS can also be connected to the local electricity network to fill any energy shortfall.
The efficiency of the solar panels is always maintained as they are equipped with light wipers to keep them clean.
RAILBUS's unique solar energy system significantly reduces operating costs, resulting in high profitability rates for the project in any city. Moreover, it doesn't strain the electricity grid, which is already a concern in many developing countries, as it relies on its own solar energy for over 90% of its power needs.
What are the potential challenges?
The founders of RAILBUS funded all the initial development stages until the risks were minimized, at which point they opened the door for investor partners to participate.
The potential challenges that RAILBUS may face in the next phase have been practically addressed, including:
1) Market Challenges:
RAILBUS has demonstrated that its developed system is highly in demand, with numerous cities expressing the need for it, as evidenced by the high volume of requests and continuous visits from government officials from a large number of countries.
At present, RAILBUS has no competitors, as it operates on a unique business model that sets it apart from other companies. Moreover, the transportation system it has developed over the past three years is unmatched in the market.
Any company attempting to replicate it would require several years to do so. RAILBUS will be the leading company in its field once it has demonstrated successful operations in several cities. The market is vast and in need of a transformative transportation solution, such as the one developed by RAILBUS.
2) Funding Challenges:
The manufacturing of prototypes, which is currently being funded by the founders and a crowdfunding round that has gained significant interest.
The financing of the stage of mass-producing the vehicles, for which a large percentage of the company's shares have been allocated.
RAILBUS intends to introduce a strategic partner, likely to be one of the sovereign funds in the Gulf region that has already shown interest. This step will be taken after the completion of the prototypes' manufacturing and successful operation on a pilot line, which will significantly increase the deal's value compared to an early-stage investment.
3) Manufacturing Challenges:
As for manufacturing challenges, RAILBUS has partnered with strategic companies and giant corporations to manufacture most of its components, as mentioned earlier.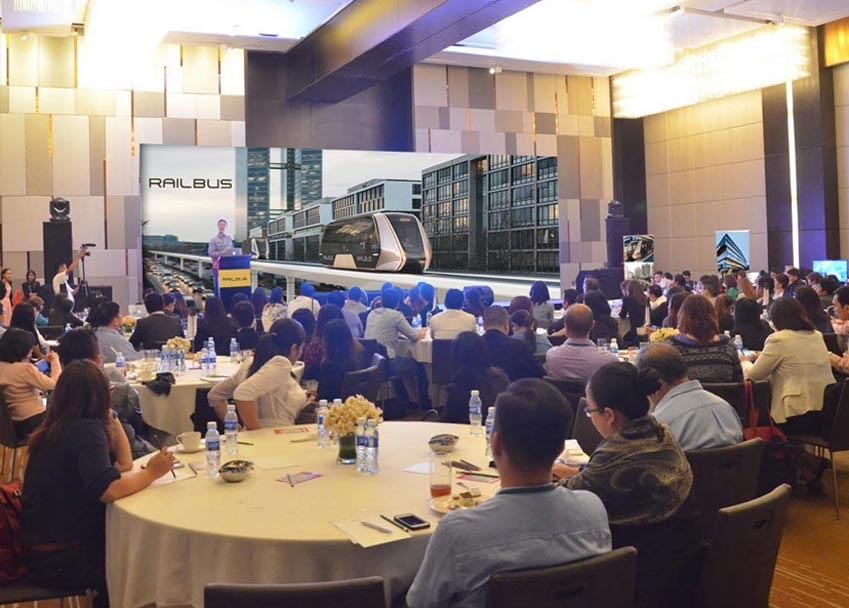 From time to time, various media outlets and well-known international news sites publish articles and news about RAILBUS. In addition, RAILBUS shares news on its Twitter account, which has over 17 thousand followers.
Shareholders are given exclusive access to a special link where they can follow the company's developments and news. Some information may not be publicly released due to privacy concerns, but it is shared with shareholders as they are an integral part of the company.
Now.. What are the steps to join the RAILBUS partners?
The process of becoming a RAILBUS is simple and involves a few steps.
1) First, interested parties need to fill out an application for participation, providing all required information such as investment amount, preferred payment method, and agreement to the investment terms.
2) After submitting the application, an email will be sent containing an initial invoice and payment details. Payment can be made by transferring funds to the company's bank account in Dubai or via Visa or MasterCard.
3) Once the investment amount is received, a confirmation email along with a receipt will be sent, followed by another message with instructions for opening an account on the shareholders platform.
4) Upon opening the account, the shares will be transferred to your account, which can be accessed through the RAILBUS App available on the App Store and Google Play.
5) You will receive an email containing a certificate in your name as a partner, and later you will receive a message with a special link for shareholders along with a password to follow the news and developments of RAILBUS.